Download EngInSite Editor for PHP
Version 3.6.4 build 238
File size: 8.51 MB
---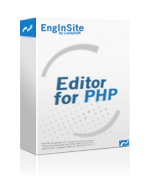 EngInSite Editor for PHP is a powerful IDE for PHP technologies that provides more power at your fingertips than all ordinary IDEs combined.

Be ahead of the crowd, enjoy full PHP 4 and PHP 5 support. Unlike most IDEs, EngInSite Editor for PHP wraps around already-existing projects and allows you to use different PHP distributions. Debug with an easy, intuitive interface: the integrated debugger makes it easy to set breakpoints, conditional breakpoints, single step through code and inspect the values of variables in your script. Define your own color schemes for unlimited ways of displaying your code. You do not have to spend valuable time configuring your environment - EngInSite PHP Editor does it for you.

EngInSite Editor for PHP is packed with power. Even your largest projects run with ease in EngInSite Editor for PHP.
EngInSite Editor for PHP Freeware License Agreement
IMPORTANT - READ CAREFULLY
This is the LuckaSoft Freeware Software License Agreement, which applies to all software products available for download from LuckaSoft website(s), unless labeled as something other then freeware. All software available for download via the LuckaSoft website(s) are copyrighted by LuckaSoft unless otherwise stated. Copyright law protects this software program and any associated material. LuckaSoft retains title to and ownership in the copyright of the software program and the associated materials. This software is not provided as public domain software.
Freeware License Rights
All software products available for download from associated website(s), unless labeled otherwise, are provided as freeware. Freeware products are provided free of charge. Occasionally the copyright holder may post a request for a donation in support of this software. This type of request does not change the classification of this software as freeware. Freeware software may be used as many times as you like, for as long as you like. You may copy and distribute copies of this program provided that you keep this copyright notice and disclaimer of warranty intact. You must not charge money or fees for the software product to anyone except to cover distribution costs. The copyright holder reserves the right to reclassify this software as a non-freeware product at a later date (i.e. shareware, licensed royalty software, or public domain). Doing so will not modify the license agreement of previously distributed executables.
Limited Warranty
This program is provided "as is" without warranties of any kind, either expressed or implied, including, but not limited to, the implied warranties of merchantability and fitness for a particular purpose. The entire risk as to the quality and performance of the program is with you. Should the program prove defective, you assume the cost of all necessary servicing, repair or correction. In no event will any copyright holder be liable to you for damages, including any general, special, incidental or consequential damages arising out of the use or inability to use the program (including but not limited to loss of data or data being rendered inaccurate or losses sustained by you or third parties or a failure of the program to operate with any other programs).
High Risk Activities
The Software is not fault-tolerant and is not designed, manufactured or intended for use or resale as on-line control equipment in hazardous environments requiring fail-safe performance, such as in the operation of nuclear facilities, aircraft navigation or communication systems, air traffic control, direct life support machines, or weapons systems, in which the failure of the Software could lead directly to death, personal injury, or severe physical or environmental damage ("High Risk Activities"). Luckasoft and its suppliers specifically disclaim any express or implied warranty of fitness for High Risk Activities.
Technical Support
Technical support may be provided via e-mail and/or website postings. While every effort is made to provided timely technical support no guarantees whatsoever are implied that technical support will be provided or that technical support, when provided, will be accurate. Software offered on this site is basically unsupported and supplied on an as-is basis unless you have obtained a specific maintenance contract agreement with LuckaSoft.
Code distribution
Users of this software are requested not to reverse engineer any software(s) downloaded from the LuckaSoft website(s) unless given expressed permission.
Agreement
By using our software products you are automatically agreeing to and show that you have read and understood the terms and conditions contained within this Freeware Software License Agreement. This Freeware Software License Agreement is then effective while you use and continue to make use of these software products. If you do not agree with our Freeware Software License Agreement you must not use our software products - this Freeware Software License Agreement will then not apply to you. This Freeware Software License Agreement is subject to change without notice.
Legal Information
Any company names, logos, trademarks and product names mentioned or shown on associated website(s) or in software products may be copyright, trademarked or registered trademarked by their respective owners.
Governing Law
This agreement shall be governed by the laws of Germany.
I accept the License Agreement above
---